The first foreign samurai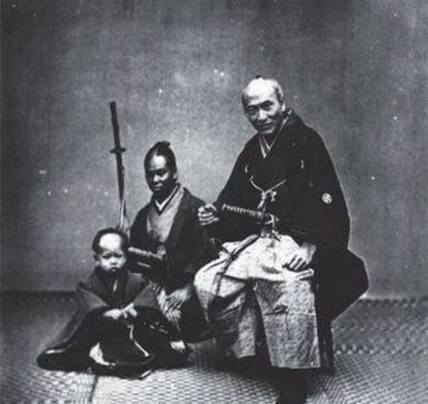 Reproduction by actors
Many would be surprised to learn that the first foreign samurai, chosen by Nobunaga Oda, was an African slave.

Yet Yasuke arrived from Mozambique in 1579, serving a very famous Italian Jesuit named Alessandro Valignano. He immediately caused a sensation when he arrived in the capital, many people who claimed to have seen him were killed for what were considered to be lies they did not want to break down. Nobunaga caught wind of these rumors, and imagining that there must be some subterfuge, in particular suspecting that the man was to be simply painted black, decided to meet him and have his skin erased. To his surprise the color of the man was real, interested Nobunaga gave him some money despite the fact that he was still a slave to Valignano and let him go. During the Jesuit missions to Japan in 1581, Yasuke learned to speak Japanese and again came to meet Nobunaga who greatly enjoyed his company, deeming the man to be incredibly robust, strong and intelligent. He asked Valignano who was to leave Japan that same year to let Yasuke live in Japan under his protection. Nobunaga liked Yasuke so much that people thought he would one day be named Lord. It wasn't, but Yasuke became a samurai.

In 1582 Nobunaga was defeated in Kyoto by Akechi Mitsuhide's army. Yasuke then set off to meet his heir, Oda Nobutada, at Nijo Castle. Nobutada in turn attacked, was able to count on Yasuke who remained a faithful samurai. When Mitsuhide brought down Nijo Castle, Yasuke was not killed but brought to Akechi Mitsuhide to decide his fate. It was declared that he was not a man, that he knew nothing, was not Japanese, that he should not however be killed but brought to the Indian Jesuits of which Valignano the Italian missionary had been in charge for some year ago. Yasuke therefore had to return to the Indian Jesuits and no one knows what happened to him afterwards, no writing having been found after this event.


Description of Yasuke in the memoirs of Nobunaga Oda (信 長 公 記 Shinchōkōki): "On the 23rd of the second month a black servant came from the Christian lands. He appeared to be 26 or 27 years old, his whole body was black like that of an ox . He was strong and had presence. Besides, his strength exceeded that of 10 men put together. "

Yasuke was indeed 1.88m which at the time in Japan must have been extremely impressive.





Related books:

Ecclesiastical History Of The Isles And Kingdoms Of Japan, vol.1, p.444 .. Retrieved 2013-06-22.
1581 letters of the Jesuits Luis Frois and Lorenço Mexia
International Institute for Children's Literature, Osaka, One Hundred Japanese Books for Children 1946-1979: Kuro-suke, retrieved on: June 30, 2007
Matsuda, Kiichi, ed., Jūroku-jūnanaseiki Iezusukai Nihon Hōkokushuu, Hōdōsha, 1987-98.
Ōta, Gyūichi, Shinchōkōki, 1622.